You aren't celebrating the holidays like an Atlantan unless you are taking part in at least a few of these well-loved city traditions! Atlanta has something for kids, adults, and everyone in between!
Botanical Garden Lights :: November 17 – January 5 :: 5 – 10 p.m.
The Botanical Gardens are transformed into a winter wonderland  and you won't believe the breathtaking lights you will see when you take a stroll through the Gardens. Sing your heart out with carolers, walk through Van Gogh's "Starry Night," and sit on a bench on The Great Lawn and enjoy watch the topiary light exhibition dance to your favorite Christmas carols. Adults can enjoy a cocktail at the Glow Bar and no one can say no to roasting their marshmallows for s'mores over a fire. Visit their website to learn more. (Photo courtesy of Atlanta Botanical Gardens.)
Macy's Pink Pig :: October 27- January 1
Who can resist this five de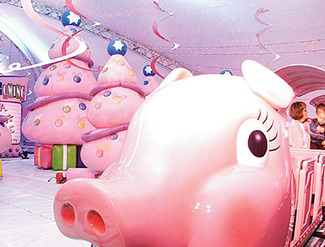 cade old tradition? Priscilla, the Pink Pig, is the decadently bejeweled pig Atlanta waits for all year! On the ride, she tours you through a life-sized storybook under a 150 foot tent at Lenox Square Mall. Tickets are $3, but the memories are priceless! Visit the Pink Pig website to learn more. (Photo courtesy of Macy's.)
Ice Skating and Christmas Lights in Centennial Park :: November 19, 2012 – January 27, 2013

Centennial Olympic Park's skating rink opens November 19th and it is $10 to skate for 90 minutes. There are vendors selling food and hot chocolate. If ice skating isn't your thing, take a walk through the park. Centennial Park transforms its 21 acres into a spectacular Christmas light stroll that can't be missed! Click here to learn more about Centennial Park skating.
Magical Nights of Lights at Lake Lanier :: November 16-December 31
This year is Magical Nights of Lights 20th Anniversary! It is a well loved tradition that carloads of people have enjoyed for many years. The seven and a half mile long car drive will take you through animated scenes and moving lights. There is also a Holiday Village complete with a live nativity, carnival, shopping, and marshmallow roasting. Click here to learn more about Magical Nights of Lights at Lake Lanier.
The Nutcracker at the Fabulous Fox Theatre :: December 6- 26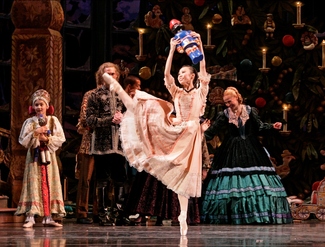 This year the Atlanta Ballet will preform The Nutcracker choreographed by John McFall with music by Peter Ilyich Tchaikovsky. This is a magical event that will amaze audiences with its charm. Dress your tiny ballerina up in her tutu or enjoy a romantic night under the sparkling night sky of the Fox Theatre. (Photo Courtesy of Atlanta Ballet.) Click here to learn more about The Nutcracker.
Macy's Great Tree Lighting at Lenox Mall :: Thanksgiving Day, November 22, 6:15-8PM
Over 100,000 Atlantans are expected to gather in front of Lenox Square to watch the magical lighting of the Macy's Tree and to celebrate its 65th Anniversary of tradition and holiday cheer! There will be a kick off event with live musical guests like Academy of Country Music and CMT award winner Trace Adkins, The Voice finalist Chris Mann and Nickelodeon star Cymphonique Miller! As a grand finale there will be a firework show set to Christmas music. This great tree boasts over 8.2 miles of wiring, 1,200 basketball-sized ornaments, 100 Macy's stars, and much more! Click here to learn more about the event. (Photo courtesy of Macy's).
Snow Mountain at Stone Mountain :: November- February 18
Grab a sled, jump on a tube, or enjoy making snow angels and a snowman to brag about! Snow mountain will have snow that can cover over 5 football fields. They will also have 20 lanes so you can enjoy tubing for hours of thrills, chills, and excitement. Grab your snow gloves and enjoy a day of snow at Stone Mountain. Click here to learn more about Stone Mountain's event! (Photo courtesy of Stone Mountain Park).
Peach Drop at Underground Atlanta :: December 31 Starting at 11:00am
If these events aren't enough then be sure to kick off the New Year right with the Peach Drop. There will be children's activities and entertainment starting at 11:00am and live entertainment throughout the night. The main attraction is the 800 pound peach drop at midnight with a fantastic firework show. Visit their website to see who will be preforming this year!
The Peters Company hopes that you enjoy this fantastic holiday season in Atlanta and we hope this list of events will help bring your holiday season plenty of fun!